Our 'Health Accelerator'
In order to bring about change today – and to influence tomorrow's sustainability challenges, we must encourage and assist the resource that is most available to us: human capital within and outside the health system. Israeli ingenuity, creativity and entrepreneurship are our greatest competitive advantage and can be encouraged not only by investing financial resources but also by mentoring, consulting, overcoming bureaucracy, and mainly through cooperation and mutual assistance. It's different from commercial accelerators because we do not claim back profits from successful initiatives. This platform encourages people within the system to take the initiative, and lead the change themselves. Unlike the start-up incubators, the model here is not oriented towards business outcomes for investors, but rather results that will be measured in improving public health, processes, service, patient experience, and more. The profit is of the health system as a whole.
Supporting initiatives today – Promising the healthcare of tomorrow
Leading Initiatives
These initiatives were chosen by 'Reboot Forum' because of their ability to lead to significant change among patients, their families or medical staffs, and to contribute to the sustainability of the health system in Israel. They have received an "Acceleration Package" that includes financial support, introduction to influencers and decision makers, professional advice and mentoring, and broad professional and public exposure.
Leading Healthcare Initiatives of 2018
Submitted in total: 188 initiatives
Semi Finals/Finals: Shortlists
188 proposals, plans, projects, and various health initiatives were submitted to the 2018 contest. There were 139 initiatives that met the criteria for submission. Of these, 45 reached the semi-finals after undergoing a screening and control process that rated the initiatives by assessing their feasibility, contribution to patients and the health system, and the degree of impact on improving public health. 525 forum members and the judging committee selected the 10 finalists – the initiatives that reached the final stage.
The contest winners are 4 initiatives: 1 in the public sector track, 1 in the private / business sector, 1 in the 3rd sector track and 1 is the "forum members favourite". One of them is announced as the 'Leading Health Initiative of the Year'. The winning initiatives receive a "reboot package" that includes financial support, advice from seniors in the healthcare system, professional guidance and mentoring, and extensive media and professional exposure.
Leading Healthcare Initiatives of 2017
Submitted in total: 207 initiatives
Semi Finals/Finals: Shortlists
The call for projects to submit to the Health Accelerator is being realized by this annual competition, in cooperation with 'Globes' newspaper. 2017 publications were answered by individuals and professionals alike (medical centers, health funds, doctors & nurses, start-up companies and private entrepreneurs). In all, more than 200 projects were submitted to a volunteer jury composed of a wide range of healthcare stakeholders: from patient organization representatives to policymakers, academia, industry, media representatives and more. Jury narrowed the selection to ten top innovations. The final winners were announced on June 17th, 2017 at the Annual Reboot Conference. They have received a package consists of financial support, media coverage, professional exposure, consulting, close mentoring, meetings with policymakers and more. Helping them identify and open the right doors and, in time, see their innovations implemented or "rebooted". these 3 initiatives are now underway, changing today – the healthcare of tomorrow:
1ST Place: 2017 Leading Health Initiative
"Bio Bank": A Biological sampling pool for research use. The initiative will be established by recruiting existing sick fund members to donate samples for DNA mapping, bio-markers, and epigenetic testing, which will assist in various studies for the detection and prevention of various genetic diseases.    
2nd Place
"MedAware": Optimization and monitoring of a prescribed medical treatment and prevention life-threatening errors in prescription drugs, that appear to occur in about 1.5% of the patients on average, with the risk of prolonged/repeated hospitalizations, at best, and, at worst, an increased risk of death. This technology can prevent life-threatening errors to approximately 20,000 patients each year in Israel.
3rd Place
"HEALTHYMIZE": An innovative solution for diseases that affect speech, such as lung & heart diseases, through an application that listens to phone calls and processes speech signals. The platform identifies a worsening of the physical condition and thus provides alerts to the patient and medical staff, enabling early treatment and preventing deterioration.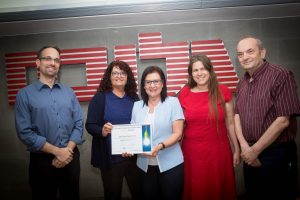 Forum Members Favorite
"Maccabi 4 Family": This program, led by Liza Abravanel Kanani, a district social worker at Maccabi Healthcare Services, offers a support system for family members of chronically ill patients, including assistance, guidance, information, support and encouragement to help relatives with coping with the patient.
The 2017 Judging Committee